Fusion GPS and the 'Insurance Policy' to Prevent Trump From Becoming President
by Jasper Fakkert and Joshua Philipp, January 18, 2018 Updated: May 9, 2019
A graphic showing the web of connections related to the Trump dossier
How did a piece of opposition research, described by former FBI Director James Comey as both "salacious and unverified," become the driving force behind the allegations that Trump colluded with Russian authorities?
Research conducted by The Epoch Times, using public sources, shows a web of connections related to the dossier reaching the highest levels of the FBI, CIA, and the Obama administration.
Paid for by the Clinton Campaign and the DNC, and produced by Fusion GPS—whose other clients include the Russian government—the dossier appears to have been the basis for the FBI's investigation into Donald Trump.
The FBI used the dossier, in part, to obtain a FISA warrant to spy on Trump's team, according to national security reporter Sarah Carter. Two of President Barack Obama's top officials also surveilled the communications of Trump's team, both before and after the elections.
The unverified allegations in the dossier were also actively spread to media organizations, both by Fusion GPS as well as other key players involved, to cast a shadow over Trump's run for president and his presidency.
Text messages obtained by the Department of Justice (DOJ) inspector general show high ranking FBI officials discussing an "insurance policy" to prevent Trump from becoming president.
The connections presented raise many questions, including the following: Why was the FBI so willing to accept the allegations made by Fusion GPS? And what did Obama obtain in monitoring the communications of Trump, the opponent of the candidate he supported?
These matters are currently under investigation by the House Permanent Select Committee on Intelligence, the DOJ inspector general, and possibly special counsel Robert Mueller.
What interest to prevent Trump's candidacy, HRC had to be elected, they never thought she would lose! What are they now trying to cover for wanting all costs dismiss Trump?
Source : https://www.theepochtimes.com/fusion-gps-and-the-insurance-policy-to-prevent-trump-from-becoming-president_2417742.html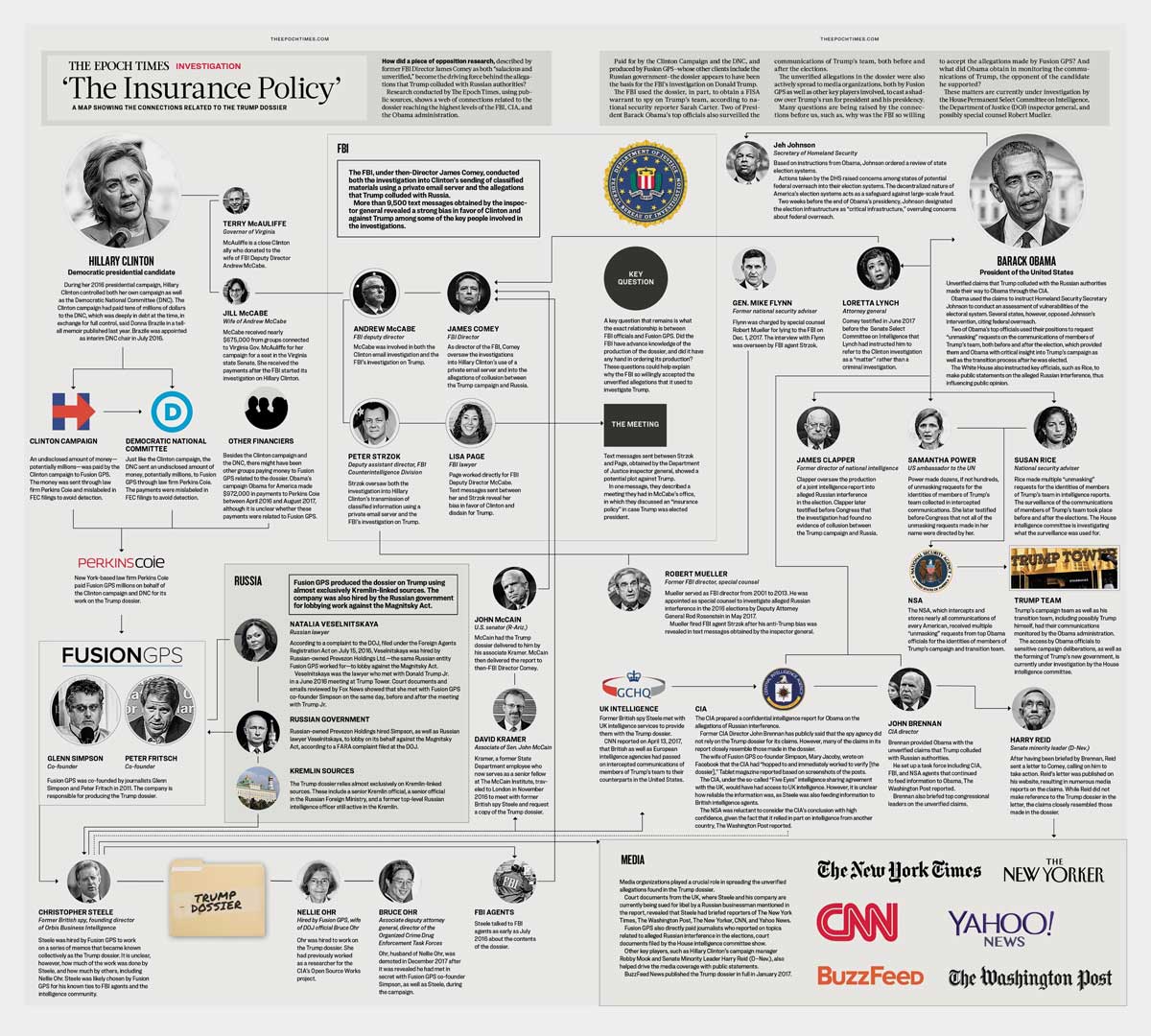 Fusion GPS et la «police d'assurance» destinée à empêcher Trump de devenir président
par Jasper Fakkert et Joshua Philipp, 18 janvier 2018 Mise à jour: 9 mai 2019
Un graphique montrant le réseau de connexions liées au dossier Trump
Comment une étude d'opposition, décrite par l'ancien directeur du FBI, James Comey, à la fois «salace et non vérifiée», est-elle devenue le moteur des allégations de collusion entre Trump et les autorités russes?
Des recherches menées par The Epoch Times, à l'aide de sources publiques, montrent un réseau de connexions liées au dossier atteignant les plus hauts niveaux du FBI, de la CIA et de l'administration Obama.
Payé par la campagne Clinton et la DNC, et produit par Fusion GPS – dont les autres clients incluent le gouvernement russe – le dossier semble avoir été à la base de l'enquête du FBI sur Donald Trump.
Le FBI a utilisé le dossier, en partie, pour obtenir un mandat FISA d'espionner l'équipe de Trump, selon la journaliste à la sécurité nationale Sarah Carter. Deux hauts responsables du président Barack Obama ont également surveillé les communications de l'équipe de Trump, à la fois avant et après les élections.
Les allégations non vérifiées dans le dossier ont également été activement diffusées aux médias, à la fois par Fusion GPS et par d'autres acteurs clés concernés, pour assombrir la course à la présidence de Trump.
Les messages texte obtenus par l'inspecteur général du ministère de la Justice (DOJ) montrent aux plus hauts responsables du FBI qu'ils discutent d'une "police d'assurance" pour empêcher Trump de devenir président.
Les relations présentées soulèvent de nombreuses questions, notamment les suivantes: Pourquoi le FBI était-il si disposé à accepter les allégations de Fusion GPS? Et qu'a obtenu Obama en surveillant les communications de Trump, l'adversaire du candidat qu'il a soutenu?
Le Comité spécial permanent du renseignement de la Chambre, l'inspecteur général du DOJ, et éventuellement l'avocat spécial Robert Mueller, enquêtent actuellement sur ces questions.
Quel intérêt d'empêcher la candidature de Trump, HRC devait être élue, ils n'ont jamais pensé qu'elle perdrait ! Que cherchent-ils désormais à couvrir pour vouloir coûte que coûte destituer Trump ?